In november 2012 Flygrossing/Grosshopper in collaboration with Stunt360 - Stunt Services Int.organised an ESS ATMA & GROSSHOPPER workshop in Copenhagen, Denmark.
Instructors and supervisors:
Jacob Sebastian Malm: Stunt360 - Stunt Services Int.
Anne Rasmussen:Stunt360 - Stunt Services Int.
Joon Poore:Stunt360 - Stunt Services Int.
Ran Arthur Braun: Aerial Director
Tiina Gross: Aerial Specialist, Flygrossing
Peeter Gros: Aerial Specialist, Flygrossing
Flygrossing – the equipment of the 21st century

Flygrossing is a multifunctional method which area of activity is

quite limitless. The Flygrossing equipment can be used from

regular trainings and rehabilitations to showprograms and

entertainment. The usage of the equipment is easy, efficient

and a fun – all at the same time. With the help of Flygrossing

you can undergo the experience of the the ski-jumper during

the flight or perhaps Neil Armstrong walking on the Moon:)

The Flygrossing equipment is used:

• for development of strength, durability and coordination

•
for recreation

•
to improve and develop the athlete's technique of their

field of sports

•
to overcome fear factor

•
as a training equipment for military, police forces, pilots,

skydivers etc.

•
for training the disabled (including blind) and persons with

post-traumatic injuries

•
in performances in theatres, shows, concerts in a form of

whole program or as the background effect
Tiina Gross is the inventor of the Flygrossing equipment and methodology

Tiina Gross, being among the top-skaters of the Soviet Union is also a multiple winner of Estonian Pairs Figure Skating Championships. After her competitive career (turning professional) Tiina Gross performed in Moscow Circus on Ice for 17 years.

Tiina Gross graduated the Moscow State Institute for Physical Education and Sports as a figure skating coach.

This theoretical, practical and artistic experience and ability has been a great substance for invention and creation of the most unique equipment for training and recreation – Flygrossing – the equipment that combines the best qualities of other similar devices.

Flygrossing is the great invention of this century that has formed into a unique field of activity with the perspective to become a field of sports.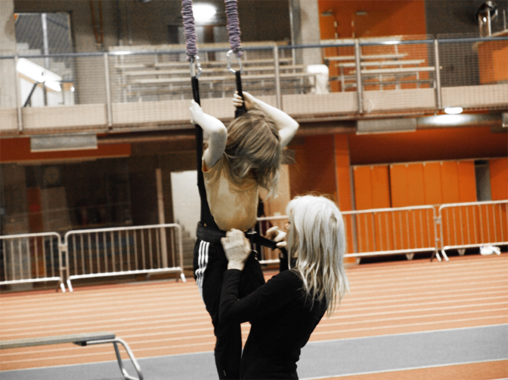 Tiina Gross is coaching the new Flygrossing generation